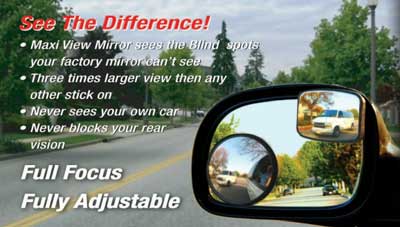 The number of accidents caused due to collisions during lane changing is very high in the United States of America. This is so common that many times such an accident is not even reported unless it has big implications. Lane changing mishaps occur because of blind spots that are found on all vehicular mirrors, including towing mirrors, motorhome mirrors and motorcycle mirrors.
One efficient and effective way of tackling blind spots is the use of blind spot mirrors.Traditionally, such mirrors were fish-eye or bubble types that had limited applicability. Rigorous research and many efforts over a ten-year period have resulted in the designing of the latest blind spot mirrors.
These adjustable spot mirrors are made with precision and high density with the most durable and lightweight materials used in engineering designs. The installation bonding strip is manufactured with a NASA developed all weather adhesive that is easily and firmly attachable to the mirrors. The installation is simple with the systematic instruction guide available. In addition, the installation of these state of the art blind spot mirrors does not require any extra tools.
The exterior mirror is 25/8 inches x 17/8 inches and the interior mirror is 3 inches x 2 ¼ inches. The MaxiView blind spot mirrors are aesthetically designed and can fit all types of vehicles, including the most expensive and luxurious vehicles. A unique swivel ball design provides drivers the flexibility to adjust the mirrors with a complete focus. The curvature of these adjustable blind spot mirrors is similar to a truck's 8 ½ inches mirror and therefore offers a three times larger view in comparison to other similar products.
The MaxiView blind spot mirrors are made from superior materials lens, making it shatterproof, fog resistance with anti-glare properties. The high-quality adhesive strip enables individuals to move the adjustable spot mirror from one vehicle to another by following the instructions provided.
Priced at an extremely affordable rate, the MaxiView blind spot mirrors eliminate the uncertainty while driving and hence are necessary for all individuals.