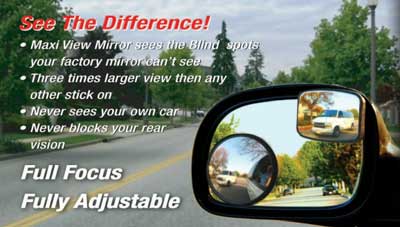 Did you know when driving there are some zones that are fully not visible? Most drivers don't know this, and it is always the most common reason given when they have been involved in a lane changing collision. Many motorists will exclaim that they simply did not notice the other vehicle in their blind spot. The blind spot is an area that is located to the back and side of the vehicle.
Technology has offered lots of gadgets that expose these blind spots including detection devices that will sound an alarm wherever a vehicle or objects comes within the blind spot (blind spot information system). Vacuum controlled side-rear view mirrors have also been used to try and expose the blind spot but with not much success, as it did not eliminate the blind spot completely.
Thanks to MaxiView blind spot mirrors this problem can be a thing of the past for the savvy motorist. Touted as the world's most adjustable stick on blind spot mirror, they are easily attached to the upper side of the vehicles existing side mirrors. This means you now have enhanced vision in an area that was responsible only for reflecting the sky previously. Because of its superior adjustability, MaxiView blind spot mirrors can be maneuvered to suit any driver regardless of height and seating preference.
One of the most innovative concepts of MaxiView is that these mirrors can be removed and placed on any vehicle should you decide to switch at a later date. Simply use the special bonding strip removal tool that comes with MaxiView mirrors and you can place them once more on any other vehicle. Because they are so economically priced at less than $30 a pair, being able to remove them and take them with you on your next vehicle is just another of the sensible perks that MaxiView have thought of.