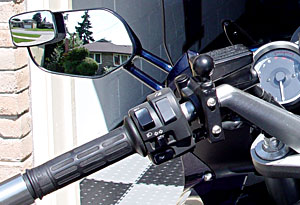 Blind spots are reality for every vehicle irrespective of its size and make. In fact, larger vehicles, such as trucks, buses, and trailers have larger blind spots in comparison to smaller automobiles, such as bikes and cars. These blind spots are extremely dangerous and result in a large number of accidents each year all over the country. Many a times these accidents are fatalistic, which result in severe damage to property and life. Hence, you must try to eliminate the blind spots and make driving safer.
This is now a reality with the advent of blind spot mirrors that are attached to the side mirrors to expand your vision. These mirrors increase your vision by up to three times the normal vision provided by the regular mirrors. The flatter designs provide an additional advantage over the bubble and fish eye mirror, which distort the view when expanded. This limitation is overcome by the flatter convex design of the modern blind spot mirrors.
The lens is attached to the towing mirror, motorhome mirror, and motorcycle mirror with the bonding strip. The bonding strip is made with superior glue, which is effective in all types of weather conditions. You can stick these mirrors within a few minutes without any tools and equipments by following the instructions provided by the manufacturer.
The optical technology used to treat the glass makes the lens durable and resistant to shattering. Moreover, it is fog resistant, which makes driving in snow or sleet easier and safer. In addition, the glass has anti-glaring capabilities, which is advantageous during night driving. The blind spot mirrors are fully adjustable with the swivel technology provided by the manufacturers. Therefore, you can adjust the mirror in a position that is appropriate for your requirements and height.
All the above-mentioned features make these mirrors extremely important to make driving safer.