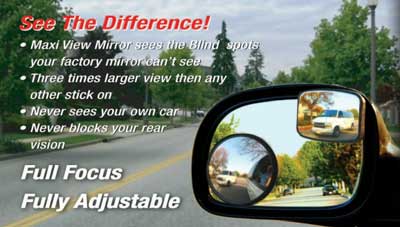 Blind spots are sadly a flaw in many makes and models of vehicle, big and small, old and new and they also cause a large proportion of the accident on the nation's roads. Good drivers are usually very perceptive about knowing when there is an approaching vehicle as it is usually noticed with peripheral vision. Blind spots can give the illusion that the space is clear when there is actually another vehicle lurking in your blind spot. Often when drivers go to change lanes they suddenly realize that the path is not clear as previously believed and they subsequently have a collision. These untimely accidents can easily be avoided with blind spot mirrors because they open up the driver's visibility range exposing more of the road.
The MaxiView blind spot mirror is an innovative design which has been extensively tested on American and European roads and results have shown that fewer collisions occur to cars that are using these mirrors. The MaxiView blind spot mirror extends from the regular side mirrors, attaching to them with an adhesive strip. The lenses are mounted on top of a ball swivel joint which moves across 360 degrees and allows you to easily set to the exact position for each driver.
The use of MaxiView blind spot mirrors greatly improves visibility opening up the road so drivers can see exactly where nearby cars are placed and so are less likely to have a collision. As most vehicles have a blind spot it is advisable that every driver on the road installs a set of MaxiView blind spot mirrors. The blind spot mirror is easy to fit at home and instructions clearly outline the steps which need no special tools. The MaxiView blind spot mirror can be enjoyed right away after installation and will make a big difference to your life.