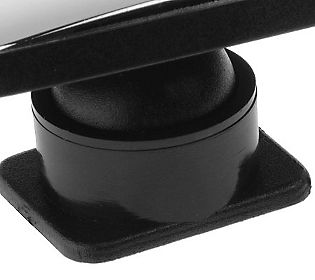 Every vehicle has a blind spot which is an area behind on both sides of the car that the driver cannot see through the side mirror. In normal circumstances, a driver is usually required to turn his head backwards while changing lanes of turning in order to clearly see what lies within the blind spot. This is a dangerous move because he or she loses concentration of what lies ahead and might easily ram into the vehicle ahead. Another method of reducing the blind spot is by using a fish-eye side mirror that provides a limited view of the blind spot area. Unfortunately the common fish-eye mirror provides distorted images and does not completely cover the entire blind spot.
The best way to reduce the blind spot is by installing the MaxiView blind spot mirror. This is an optically engineered mirror that provides the driver with a clear, real life view of the blind spot because the face on its curvature is two and a half times larger than that of the fish eye and bubble side mirror. The blind spot side mirror is also suitable for every vehicle because it can be fitted on a towing mirror, a motorhome mirror as well as a motorcycle mirror. It is the best option in reducing the blind spot because with 360 degrees adjustability on a ball swivel, the blind spot mirror can be adjusted to fit every driver's height and viewing position. This is a product that has been tested successfully on some of the busiest freeways in California and autobahns of Europe.
The blind spot mirror is also fog resistant can easily be installed using its super strong all-weather installation strip. The fact that it is glare proof for safer and clear night driving further attests to the fact installing the blind spot mirror on your side mirror is so far the best way to reduce the blind spot in your vehicle.