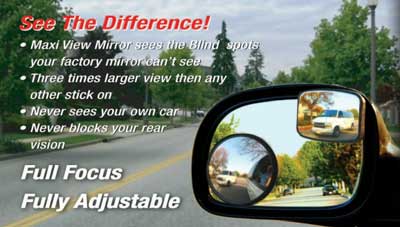 Often while changing lanes, you may have been surprised to find another vehicle in your path that comes out of nowhere. Have you ever given a thought to the reason that causes this situation? Blind spots! These areas are not visible from normal vehicle mirrors and often result in collisions occurring while drivers are changing lanes. A large number of individuals are injured or killed annually due to such road accidents. You may now be wondering how to overcome the blind spots that are so very dangerous.
There is no need to despair, as diligent research has resulted in the invention of blind spot mirrors. The mirrors are made using a high-tech optical mechanism, which makes the mirrors flatter to enhance the view of the drivers without distorting the image. The lens is shatterproof, fog resistant, and with the unique night vision completely anti-glare. In addition, the design of the advanced mirrors is superior, which is compatible to all vehicles without ruining the aesthetics of your expensive car. The mirror can be attached to the motorcycle mirror, motorhome mirror, towing mirror, car mirror, and any other vehicular mirror easily and quickly.
The manufacturer provides a detailed instruction guide that provides the users the method to attach these mirrors. The attachment can be completed at home without needing any tools or equipments. The special adhesive bonding strip easily sticks on to the inner top corner of the side mirrors to provide an enhanced vision to the drivers. Moreover, there is a secret method to remove these mirrors without damaging the blind spot mirror or the adhesive used to attach the mirror. This secret method is provided with the instruction manual at no additional cost. Therefore, you can reuse the old mirror on your new vehicle when the need arises!