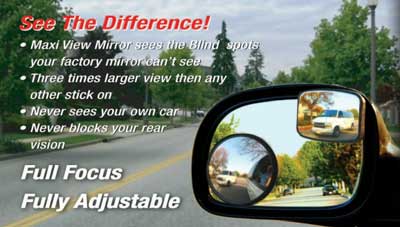 It is important to address the problem of blind spots that make the vehicles in the lanes adjacent to your car invisible through your side mirror. Such blind spots are a major cause for accidents and road rage on highways and in severe cases a cause for loss of lives or limbs. As a responsible driver, you should aim to make driving maneuvers like changing lanes as safe as possible. Nothing should be left to chance, especially limitations on visibility caused by blind spots.
You can easily put an end to your car's blind spot simply by investing in a blind spot mirror that is optically engineered to give you an expanded distortion-free visibility via your side mirror. A blind spot mirror uses advanced technology to give the driver double the visibility he or she would get from the ordinary fish-eye or bubble mirrors. Blind spot mirrors also eliminate the problem of misleading distance images. They are made of super-strength NASA technology bonding strips that are 100% glare-proof, are shatter-proof, and fog resistant.
If you intend to put an end to the blind spot on your car for safer driving, you would need to invest in a blind spot mirror that fits all types of mirrors. It should be one that can work on a motorcycle mirror, towing mirror, and even a motorhome mirror. It should also be adjustable to fit every driver's height.
Visibility is an important factor in safe driving. It is the main reason for all the lights and mirrors fitted in your car. It is imperative that you have a clear and unhindered view of all the other cars in front and behind you as well as on adjacent lanes. So put an end to the blind spot on your car by investing in the best blind spot mirror there is in the market.