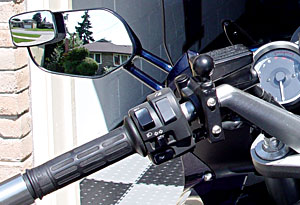 Blind spots are a reality in all types of vehicles, which include cars, vans, buses, trailers, and trucks. Moreover, a bigger vehicle implies a bigger blind spot and a collision due to this reason could often lead to fatalistic results. In the United States and other parts of the world, several individuals lose their lives due to the occurrence of an accident while changing lanes. The towing mirror, motorhome mirror, and motorcycle mirror do not show the vision two lanes away while changing lanes. This often leads to collision between vehicles while changing the lane.
An easy, convenient, and affordable option is the new adjustable blind spot mirror. These mirrors are optically designed with high-quality lens, which are fog resistant and non-shattering. Additionally, the mirrors are provided with a special unique night vision feature that makes the mirrors anti-glare. The flatter design of these mirrors provides a two and a half times larger vision, which is free from any distortion.
The new and advanced blind spot mirror is provided with a unique swivel ball that makes the mirrors fully adjustable to suit the requirements of every individual driver. The mirrors are most appropriate for the upper inside corner, which is where the sky is seen. However, unlike other adjustable mirrors, this newer version will not block your vision due to its full 360-degrees adjustability feature.
The other types of adjustable mirrors, such as the fish-eye or bubble mirrors distort the vision and often do not provide the correct distance between the vehicles. However, the flatter design of the new blind spot mirror does not distort the vision while enlarging the surrounding area. In addition, the advanced mirror provides a wider image of the area to assist drivers make safe lane changes.
All these advanced features are available at affordable prices, so there is no reason to avoid buying these mirrors.