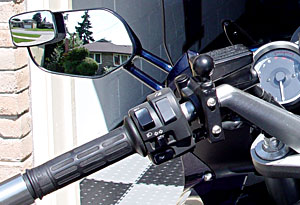 What can the ordinary person driving on our roads do to improve the safety of themselves and other drivers? By installing a blind spot mirror to your car or truck you are minimizing the chances of a collision and making the roads a safer environment for the other people on the road.
Blind spots can cause fatal accidents especially on freeways where speed limits are higher. Many such accidents could have been avoided if the cars involved had been using the MaxiView Blind Spot Mirror.
This accessory affixes to the regular side mirror using an all-weather adhesive strip, placed in the upper corner of the mirror which usually reflects the sky. The ball swivel adjustment allows for 360 degree movement and can be quickly changed to suit different drivers. The materials include NASA developed all weather stick on strip, optically engineered shatterproof, fog resistant lens and a stylish black finish which suits all makes and models of vehicle.
It is a wonder that blind spot mirrors have not been made compulsory for manufacturers, when so many vehicles have this blind spot problem. It will certainly make the roads safer when everyone has invested in this affordable DIY MaxiView Blind Spot Mirror. Earlier blind spot mirrors used the fish eye or bubble lens, which actually distorts the drivers view making it seem further away and smaller.
The MaxiView Blind Spot Mirror gives a clear, realistic image, opening up the blind spot as an extension of the existing side mirrors. Driving with a blind spot mirror you can change lanes safely and with confidence knowing that you can see all surrounding traffic. So tell your friends and work colleagues about the MaxiView Blind Spot Mirror and encourage them also to invest in one so that the roads will be a lot safer.