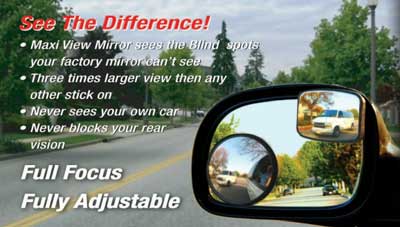 Have you heard about the latest innovation by Maxi view Blind Spot Mirrors? If you are a motorist and you travel on any one of our nation's far reaching roads then you know what it is like to make a lane change. Can be a little tricky at times, no? The biggest reason why we find lane changes a reason to get worked up about is that it can be fraught with danger. What we all probably know but have come to expect as par for the course is that our vehicle – regardless of size make or model has a blind spot. Many times another vehicle traveling on the road can be in our blind spot and we either narrowly avoid hitting them when making a lane change or sadly, many of us do collide and this can end in fatality or trauma. All vehicles have them so what can be done to narrow the chances of a collision?
Maxi view have designed a revolutionary stick on mirror that is applied neatly over your present motor vehicle side mirrors. This type of design is brilliant as it is able to sit on your vehicles current existing side mirrors. They sit in the top upper corner in the space that would normally reflect the sky.The patented invention means that the makers have thought long and hard about what it is that makes the motoring on our roads safest and how can it be applied to every vehicle around the world with the least amount of fuss and bother to the vehicle owner and driver.
Maxi view came up with the ball and socket design that allows the mirrors to be adjustable up to 360 degrees. That means you can have the most petite of grannies sitting in the drivers seat or the most robust and tall of her grandchildren drive her vehicle and both are able to get maximum rear vision from the Maxi view Blind Spot Mirrors. Retailing for less than $30 a pair are you really sure you want to get behind the wheel of your car knowing that you could injure yourself or others?