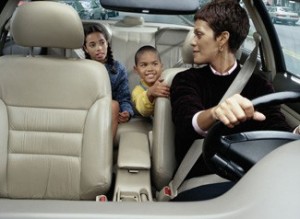 How often have you started to change lanes, only to realize at the last second that someone was in your blind spot? If you're lucky, you were able to pull away at the last second and avoid an accident; if not, your blind spot spun you into an unfortunate collision.
Now you're wondering how to reduce the chance of accidents and improve side mirror visibility, without attaching a bubble mirror, as these mirrors notoriously do not reflect the accurate size. Well, with a specially patented Blind Spot Mirror can do everything you want- it attaches quickly and easily to your side mirror will double your view in minutes. Worried that it might fall off when you need it most? The MaxiView Blind Spot Mirror attaches with a NASA-developed, super strength all-weather bonding strip, so you can rest assured that it will stay in place no matter what.
This unique blind spot mirror is perfect for all vehicles, and with its stylish design will look impeccable even on luxury models. It fits right over the spot on your side mirror that reflects the sky- utilizing every portion of your side mirror without interfering with your normal view. With its unique night vision feature, you'll be sure to be protected from accidents day or night. This Blind Spot Mirror is also great for towing mirrors, motorhome mirrors, or motorcycle mirrors- reducing your risk of accidents in vehicles notorious for having clumsy blind spots.
With a 360° fully adjustable view ball and swivel, the MaxiView Blind Spot Mirror will can be angled to fit any driver- unlike bubble or "fish-eye" mirrors. Included with the product instructions are directions for switching this Blind Spot Mirror from car to car- so if you get a new car you'll still be protected from costly accidents. Don't let another near miss happen again- purchase the MaxiView Blind Spot Mirror today!