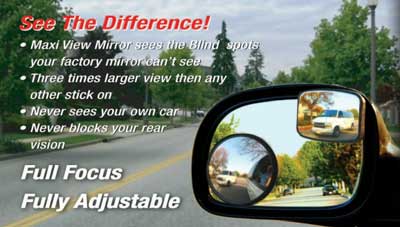 Over the last several years, a large percentage of the American population has been injured or killed in collisions between vehicles while making lane changes. This is one of the most dangerous moves made by drivers that result in fatal outcomes. Several drivers turn around their heads to check if there is a vehicle driving in his/her blindspot. Many others estimate there is no vehicle in these invisible areas because of the clear image provided by the vehicle's mirrors. However, most people are unable to avoid accidents when a vehicle suddenly appears out of nowhere.
Nonetheless, you now have an option to reduce the dangers of making lane changes without being completely assured. This is easily achieved by installing blindspot mirrors, which enhance your visible area by more than two times the normal area visible through vehicular mirrors. Moreover, the improved visions do not reduce the size of the image or its quality. Therefore, you can now enjoy a superior vision without compromising on quality.
Appropriate for various vehicles, such as motorhome mirrors, towing mirrors, and motorcycle mirrors these are technically advanced versions. The swivel ball technology allows you to adjust the mirrors as per your personal preferences. Moreover, you do not need to spend any time and additional money on installing these adjustable mirrors. The all weather adhesive bonding strip can be easily installed at home within a few minutes without the need for any tools and skills.
The advanced blindspot mirrors are priced at very reasonable rates, which make these a cost efficient solution for your safety. The glass is made with high quality materials for durability and longevity. Additionally, if you decide to sell your old vehicle and procure a new one, you can detach these mirrors from the old vehicle and reattach these to the new vehicle. Therefore, you can now make the most dangerous move with safety and confidence.